Busy Bride Tip #5: Bridesmaid Gifts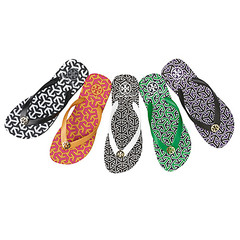 Tory Burch, Printed Flip Flop, $50
Finding the perfect gift is harder than you'd think!  I was on the hunt for something with a personal touch that could be re-used in everyone's daily activity or lifestyle.  After weeks, I found the perfect gift: Tory Burch flip flops!  
Affordable ($50), chic, comfortable, and available in assorted designs to suit each girl's fashion sense, these flip flops were a winning hit!  I picked out a different style that matched each girl and every one of them appreciated that "something extra" factor.  Plus, what's not to love about super cute shoes known for its elegant logo?  To boot, the shoe box was beautifully packaged in colorful summery bags, compliments of the store! Since my wedding was outdoors during a hot summer July day, these flip flops also proved handy so that they could kick off their shoes and don these comfy stunners during the dancing portion of my reception!
I'm not normally drawn to mugs, but let me tell you that these are simply adorable!  They are monogrammed set against an elegant pattern, and I even purchased a set for my husband and me.  It's something that makes us feel classier each time we use it, but even better, serves as a reminder of our special wedding day shared with my bridesmaids.