AMAZING 50-PAIR SHOE RACK
Store and View your Entire Shoe Wardrobe…in one Glance!
At GoGo Heel, we have a wide assortment of high heel shoes for testing QUICK TIPS® Heel Caps, so we're always looking for efficient ways to store our large & growing shoe collection. I wanted to share an awesome shoe rack that I discovered at the Container Store last weekend. This shoe rack is perfect for organizing and storing a ton of shoes, and here's why:
PROS:
• Holds up to 50 pairs of shoes, so you can see them all in one glance & keep them organized
• Tall & Compact so it doesn't take up much floor space
• Slim enough to fit in many spaces (perfect for walk-in closets)
• Rolls easily so you can move it in & out of closets or other spaces
• Non-slip coated bars to keep shoes in place
• Sturdy (steel bars/frame)
• Easy-to-Assemble: Took me 15 minutes & everything you need is in the box
• Great value ($69 regular price)
CONS:
• Boots/taller shoes only fit on the top shelf
PRODUCT INFO:
Chrome 10-Tier Rolling Shoe Rack, The Container Store, $69
Disclaimer: This is not a sponsored post (we don't do those). We just really like this shoe rack and wanted to share.
4 HELPFUL TIPS: Setting up your Shoe Rack
1) MAXIMIZE SPACE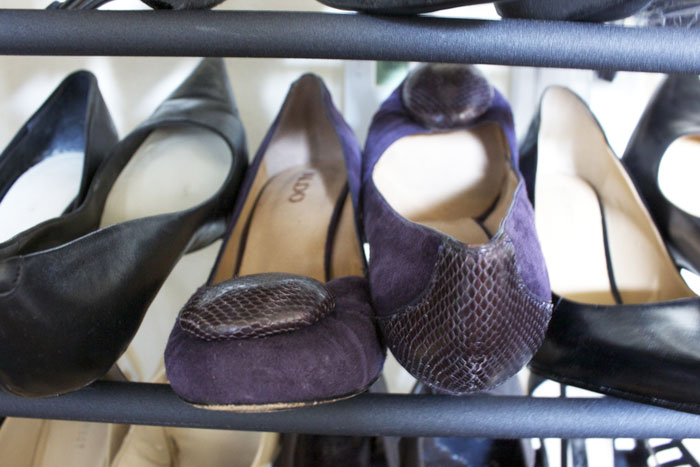 Alternate your shoes (point one shoe to the front and the other to the back) — you'll be able to fit more in a row.
3) STORING BOOTS ON LOWER SHELVES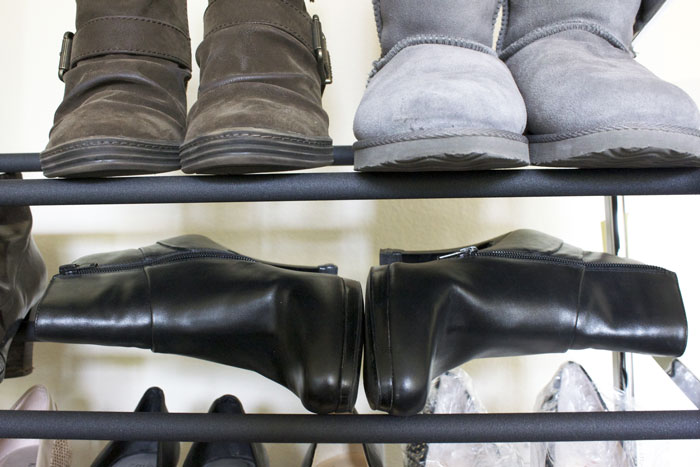 Since boots (standing up) only fit on the top shelf, lay your shorter boots on their side to fit them on the lower racks. Of course, this will only work if you have extra room on the shelves.
2) DIY BOOT SHAPERS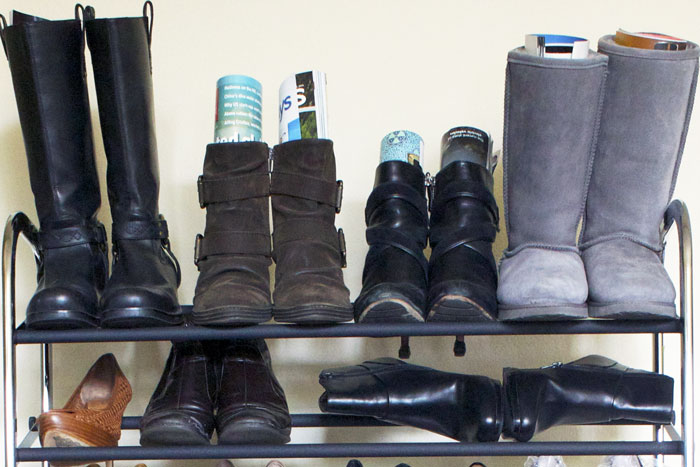 Use old rolled-up magazines as boot trees to avoid creases. Magazines with more rigid covers work best.
4) STORING SPARE PARTS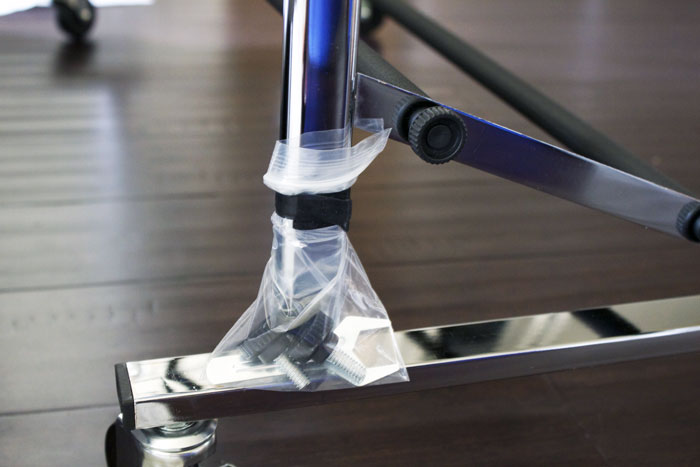 Keep spare parts with the Shoe Rack so they're easy to find later. This Shoe Rack came with 2 extra screws + small wrench. I used our self-fusing bands to attach these spare parts to the bottom of the rack.