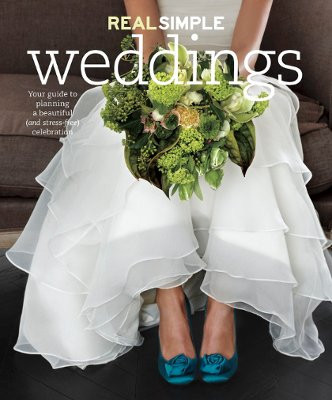 Busy Bride Tip #1: Best Wedding Magazine
Real Simple Weddings, $13.95
My first tip for any new bride is to pick up Real Simple Weddings, the best wedding guide on the market.  Unlike many other wedding magazines, this actually educates you on how to to plan a wedding.  It takes you step by step, and the information is simply laid out so it's easy to digest.  It's also filled with creative ideas and beautiful wedding photos, but it's the wedding planning worksheets that make it a gem.  The most helpful by far is the Planning Calendar, which is a chronological wedding planning checklist that leaves no rock unturned.  This Planning Calendar became the wedding planner I never hired.
Also makes for a fantastic engagement gift for any new bride!
Tip: If you're looking for a ballpark estimate of how much weddings in your area cost, check out CostofWedding.com.  It gives you the average cost of a wedding by zip code, and even provides a breakdown by common expense categories like venue, catering & rental costs.