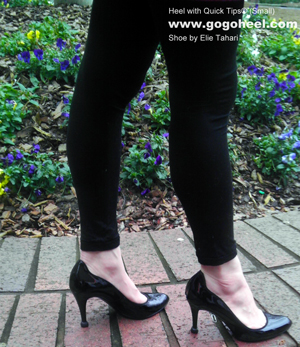 THE POWER PUMP
Style: Workplace
Shoe Color: Black Patent 
QUICK TIPS® Cap Size: Small
Introducing Stella Stiletto — the power work pump. These are a mainstay of my weekday work wardrobe because they work everywhere, even at the Atlanta Shoe Market this past weekend. At nearly 4 miles of walking and standing, Stella Stiletto would agree that QUICK TIPS® Instant Heel Caps help high-mileage shoes. 
Fix the Click with QUICK TIPS®!